Hunting
Every hunter knows how important hearing is to the success of the hunt. Imagine if you could amplify the sounds you need to hear while protecting your hearing from damaging sounds. Magnum Ear does just that and is available in three levels of protection. Every Magnum Ear product features wind noise reduction and eliminates feedback so you enjoy comfortable, state-of-the-art hearing protection.
Enjoy hearing clarity when you need it with superior wind noise reduction
Ensure a virtually whistle-free experience with the elimination of annoying feedback and noise
Comfortable, compact and easy to wear. Say goodbye to bulky earmuffs and uncomfortable plugs.
Magnum Ear Behind-The-Ear
Weighing in at less than 1.4 oz., the Magnum Ear BTE fits comfortably behind your ear and features a low battery indicator tone. Suerb attenuating properties are complemented by conforming eartips that create a comfortable seal. NRR 26 dB.
Magnum Ear Canal
At less than ¼ oz, you will hardly know the Magnum Ear Canal is protecting your hearing. It features the same superior attenuation and comfort as the BTE model, in addition to the low-battery indicator tone.
Every Magnum Ear Canal comes with its own Owner's Manual, three eartips, four batteries and a convenient carrying pouch.
Magnum Ear Custom In-the-Ear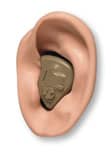 If you want custom-fit hearing protection, our top-of-the-line Magnum will give you the most comfort, convenience and performance.
Your Magnum Ear Custom In-the-Ear comes with four batteries, a cleaning tool, a protective carrying pouch and its own Owner's Manual.