Affordable Hearing Aids Can Exist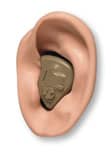 Many people don't believe that affordable hearing aids can exist.
Hearing devices are very specialized marvels of miniaturization and sound reproduction. Most new models require many years of research, development and testing before being available for market and that adds significantly to the price you pay.
But many still wonder how something so small can cost so much.
How Bravo Makes Hearing Aids More Affordable
Affordable hearing devices aren't always about which one you choose, but where you choose to buy it. Of course you can choose "cheap" models, but they might not be the best treatment for you, may not fit properly, will likely need more frequent battery replacement and extra maintenance, and might even cause more damage than good. It means the cheaper options can end up costing you more than you think and still not help you hear as well as you can.
When you choose Bravo, you'll get the most value for your money from great quality devices combined with the highest levels of customer service anywhere. And that makes your instruments more affordable, while letting you hear the clearest possible sounds.
Free Consultation: Just give us a call at 416-207-9711, contact us or visit our conveniently located hearing centre in Toronto and we'll be happy to answer your questions and help you find the right device for your needs
Financing Options: We want you to hear better and we offer a variety of financing options to make it possible.
Everything in One Place: Choose Bravo and you won't have to spend time and money going around town to find everything you need. In addition to complete ranges of instruments from the top manufacturers in the world, rely on Bravo for everything else you'll want, from accessories and assistive listening devices to repairs and home/hospital visits.
To find affordable hearing aids and get the best one for your needs, call Bravo Hearing Centre today at 416-207-9711 or contact us.